Persatuan Amirul Mukminin Selangor & Wilayah Persekutuan (PAM) was officially established in June 1998. It was formed as there was a strong wave for a need for a formal association to foster a stronger relationship in our community whom had migrated from Penang to start a new life in Kuala Lumpur.
Before its formal establishment, PAM was functioning as an informal group for about 3 years with its members taking turns to host the meetings. Allahyarham Hj Osman Bin Hj Mohamed was the President then.
WHY NEED FOR PAM
In early 50's our community was situated around Pahang Road. It started to grow as our people brave themselves to move to Kuala Lumpur for greater future. As members and their families grew, they started to move out of Pahang Road as it could not accommodate the growth of our community. New immigrants of our community from Penang used stop centre before finding themselves a new place elsewhere.
Meeting among our community members became harder as new Penang immigrants were busy concentrating themselves  in establishing their career facing new challenges. Furthermore our community was very young as such,  unlike Penang, wedding events in the community was only once or twice in a year. This made the meeting and get together even rarer.
On the other hand our younger community members who were bachelors were longing for get together. These young folks pushed for an association or club that could be a platform for regular meetings, functions as well as for members to foster and strengthen relationship. These young generation wanted to create a community which is strong and dynamic yet with deep faith in Islam.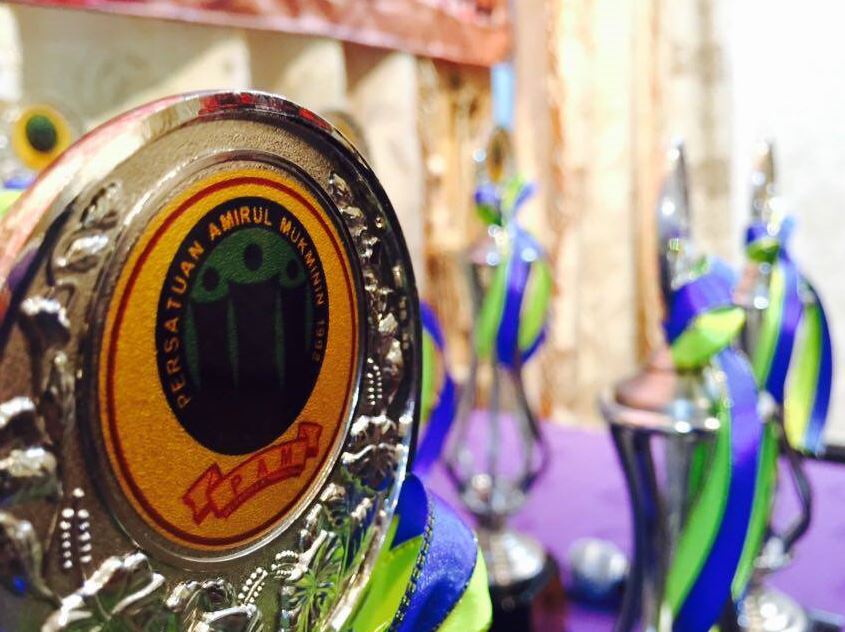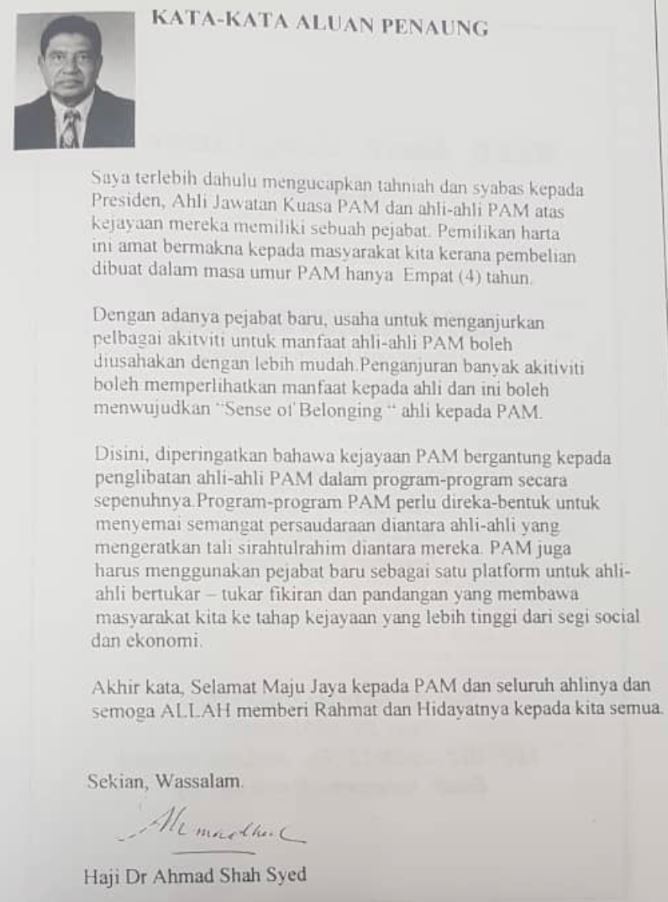 FORMATION OF PERSATUAN AMIRUL MUKMININ
In 1998, the group decided to submit formal papers to register an association by the name of Persatuan Amirul Mukminin. This was to ensure the commitment of the members and seriousness in bringing about changes to our community. Formal papers were submitted for the establishment of Persatuan Amirul Mukminin Selangor & Wilayah Persekutuan and the rest is history. 
Upon acceptance of the establishment of PAM by the Registrar of Society, a team was formed to formalize the establishment and move the agenda of its formation. From there on, there was no turning back. PAM ha since moved forward with multiple programs with objective to part knowledge and strengthened relationships.
Among programs that were held were Majlis Berbuka Puasa, Majlis Rumah Terbuka Hari Raya, Majlis Tazkirah and many more.
Some of PAM's event highlights
One of the most successful program was Hari Keluarga PAM 2005 which was held in Dewan Serbaguna Taman Ibu Kota. This program was well received with games for children and adults. Everyone had a good time.
Another program that attracted many participants was the Motivation Talk by Dr Kader Ibrahim held at a school in Taman Melawati, Kuala Lumpur.
PAM also very creative in raising funds for its community programs. It organized the sale of Kurma every Ramadan and this could easily earn about RM 4,000 to RM 8,000 a year. 
Majlis Qurban organized by PAM yearly also increased the opportunity for its members to participate in one of our Islamic tenets. 
BUYING OF A BUILDING
After official registration of PAM, the members approved the proposal of PAM President, Sdr Abdullah Khader to buy a building for the association. A building owned by PAM is very much needed as it would create more commitment from members and create a sense of belonging and pride for the members.
A building was also needed previously meetings were often held in members office or restaurants. It was also needed for PAM's function like Majlis Tazkirah and Majlis Berbuka Puasa.
A small office area was bought in 5-storey building in Pandan Indah in 2002. A  wonderful and elaborate function was held to celebrate the opening of the office. The PAM Office was officiated by Dato Dr Hj Ahmad Shah.
PAM FORWARD
The way forward for PAM is to organize programs that are different from others and that increase the intellectual of the members, improve the members faith in Islam, improve and further strengthen the relationship among its members.Its move to having its own website is to be as near as possible with members. It wants to reach and touch base with its members.
PAM future challenges would be to increase the members participation in PAM's activities and show the path for members to ripe benefits from PAM.
Looking forward, PAM has to settle the sale of its office block and move to a more comfortable  building to rejuvenate the members interest and increase new commitments to PAM.
This new building would be able to create new interest and motivation, enhance the PAM image and create a impetus for PAM growth.